2019 has become the success year for the Russian cheese makers. At the famous international competition World Cheese Awards 2019 in Italy, the Russian cheese makers team immediately won 9 medals! This is a real breakthrough and a significant event for the entire industry, about which we will certainly talk about in the framework of the business program of the Exhibition. The leading cheese makers of the country will take part in it. They will not only discuss the development strategy, but also hold several master classes. On the sidelines of the VI Agro-Industrial Dairy Forum held at the end of November, we talked with Oleg Sirota (the Russian Parmesan) the famous cheese maker and blogger and Andrey Blazhko, De Famille cheese factory, bronze medalist at the World Cheese Awards.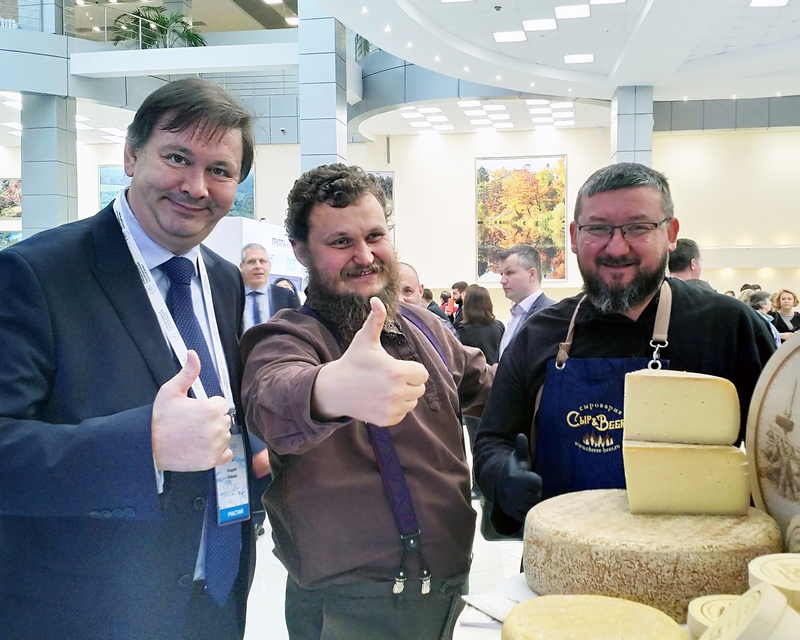 On the photo: winners of the World Cheese Awards 2019 – Andrey Blazhko (De Famille cheese factory), Oleg Sirota (the Russian Parmesan) and Vyacheslav Kovtun (Cheese & Beer cheese factory)
Oleg Sirota: we are now witnessing a real "cheese fever"
The level of professional approach to cheese making in our country rises every year, and particularly in the quality cheeses category. In recent years, a real "cheese fever" has begun in our Moscow region. Many interesting projects have appeared. They are expanding, new participants come every year. And I think that if this growth rate continues, then in five years the problem of import substitution in the cheese category will be solved, and we can seriously talk about export.
- As for our cheese factory, we produce cheeses according to the mixed recipe, partly European recipes, partly purely ours, Russian. It is wrong to say that cheese is a non-Russian product. Its production in Russia amounts to almost 200 years. We are now reviving a purely Russian variety of aged Meshchersky cheese, they began to cook this cheese in the Moscow region in 1798. I hope that in a year we will start selling it!
Andrey Blazhko: having a small production, you can work with large federal networks
This year, we initiated creation of the cheese makers team in the Moscow Region, merged several enterprises, and organized the delivery of cheese to France. And we are pleased that our two washed rind cheeses received bronze medals of the World Cup. For the first time in this category, the cheeses from Russia received medals - this is the bronze medalist of the World Cheese Awards in the "Washed rind cheeses" category – Le Paille de famille and Brique Amber de famille.
Our company, the De Famille cheese factory, started in 2015, the idea had matured a year earlier when counter sanctions were introduced, since we really like soft blue cheeses. We analyzed complexity of this production, realized that it was not a spaceship, went to France, met with the French cheese makers, technologists, and equipment manufacturers. And in 2015, our cheese factory began its work.
We specialize exclusively in soft blue cheese. At the moment we have 2 production sites. One of them is located in the town of Chekhov and produces soft cheese with white mold. And the second is located in the Odintsovo district and produces washed rind cheese.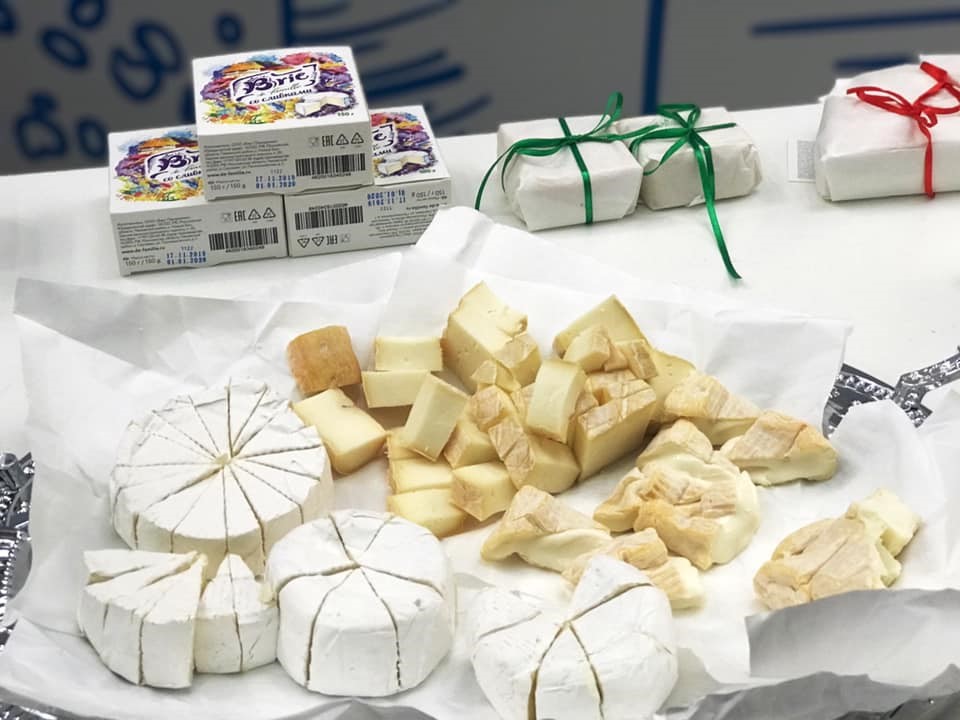 For a long time we have been choosing the cheese varieties that make sense to produce in Russia. We decided not to take cheeses like "Munster", "Livaro" intensive in aroma, chose the varieties that have a restrained aroma and a rich creamy taste. We are very pleased that the International Jury also paid attention to them and awarded them with two bronze medals.
- What was the most difficult in setting up the production of cheese?
- The most difficult thing for us was building relationships with the retail chains. This is much more complicated than mastering technology or finding qualified personnel. We initially planned sales through the retail chains. Despite the fact that we are still a small enterprise, we are quite widely represented in the chains. Today our cheese factory works with Auchan, Metro, X5 Retail Group, Magnit, Azbuka vkusa, Aromatny mir. One of our favorite customers is the VkusVill chain, which places the orders with us for the production of cheese under its own brand. It helps us cope with such volumes, first of all, that we are engaged in a rather narrow category of product, soft cheeses with white mold are not a product of mass demand. This is a product from the category of gourmet foods, which, as a rule, people do not buy daily, but purchase for some occasion. Therefore, having a relatively small production, you can work out the requests of the large federal chains.
One of the significant problems in the Russian cheese production is still the quality of milk. And there are several reasons for this. Firstly, there is very little milk suitable for cheese making. Secondly, milk in Russia is, in principle, very expensive. To understand: our scientific and technical base is located in the South-West of France, where milk suitable for production costs 23 eurocenters per liter, i. e. 19 rub/liter. Here it cost exceeds 1.5–2 times. We have regular suppliers that give us good quality milk, but it is clearly not enough in case of an increase in production capacities. The issue with the personnel is also not simple. We make specific cheeses, which homeland is France. And we understand that to produce quality products here in Russia we simply will not find professionals. Therefore, we invite specialists with the specialized education to work, we bring the French technology specialists who conduct training directly at the workplaces.
Our cheeses need equipment that is not yet made in Russia either, almost everything has to be imported. Although in recent years we have noticed the movement of our machine builders that began to produce high-quality equipment for milk processing. So there are problems, but the journey of thousand miles begins with a single step, so we are mastering the new technologies step by step and are developing, thanks to the support of our consumers and the state.